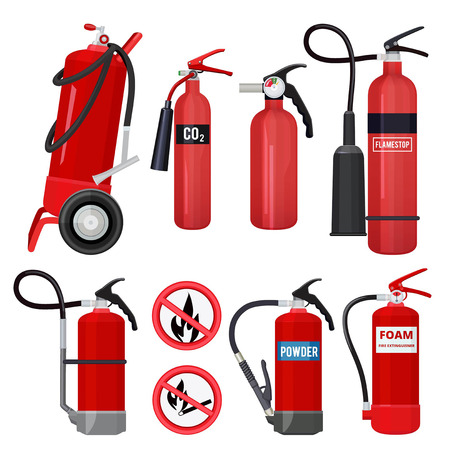 A fire extinguishers is an active fire protection device. It can extinguish or control small fires, often in emergency situations. Typically, an extinguisher consists of a hand-held cylindrical pressure vessel containing an agent which can extinguish a fire. The various types of fire extinguisher put out fires started with different types of fuel. The fire risk from the different classes of fire in your business premises will determine which extinguisher types you need. You will also need to make sure that you have the right size and weight of fire extinguisher as well as the right kind. Akbar Farooq Trading Company (AFTC) provide all kind of extinguishers of different sizes and capacities.
How to use your fire extinguisher?
Most of the types operate using the P.A.S.S. technique:
P. Pull the pin on the fire extinguisher in order to break the tamper seal.
A. Aim the fire extinguisher low, with the nozzle pointed at the base of the fire.
S. Squeeze the handle of the fire extinguisher to release the extinguishing agent.
S. Sweep the nozzle from side to side while pointed at the base of the fire until it is extinguished.
If the fire re-ignites, repeat the last 3 steps.
Fire Extinguisher Refilling.Fire extinguishers need to stay in a ready at the time of fire. Because a fire, though unlikely, can happen at any time. When you use fire extinguisher, even partially, an empty Or even partially used fire extinguisher is useless. You need to Refill it.Why Fire Extinguisher Refilling?Make sure fire extinguishers are ready and prepared to handle a fire emergency at any given time. If you fail to schedule regular inspections to recharge your extinguishers, you increase your chances for equipment malfunction and Safevision wants to give special attention to it.Fire Extinguisher Refilling in Lahore.We are also providing Fire Extinguisher Refilling services to the client at most reasonable rates. This Fire Extinguisher Refilling service is providing under the monitoring of our skilled and trained professionals. Our professionals teach the clients various important points on fire safety in easy and convenient manner.